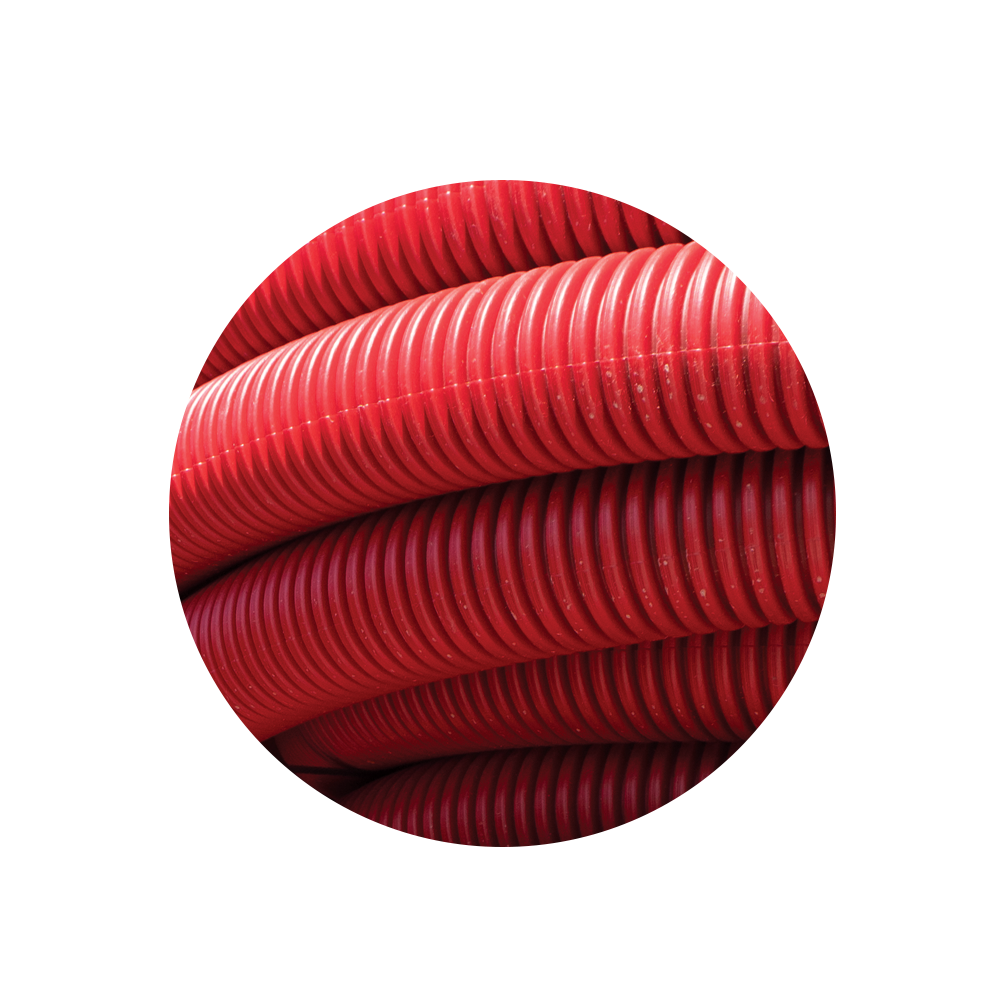 Excellent
hydraulic properties

High durability
of pipelines


Excellent
hydraulic properties

High durability
of pipelines
PE pipes for protection of cables
PE double-layer corrugated pipes for cable protection are produced by the extrusion process from high-density polyethylene (HDPE).
They are produced in yellow and red colors or according to the
customer's request.
Prednosti dvoslojnih korugovanih PE cevi :
• Durability
• Simple and safe handling and installation
• Excellent hydraulic and mechanical properties
• High temperature stability
• Flexibility in processing and joining
• Low costs of the entire system
• Flexibility of the pipe system
• Enduring large deformations without damage 
  to the structure, tolerates earth movement
PE double-layer corrugated pipes have a wide range of applications, including cable protection. PE double-layer corrugated pipes are
used in the construction of roads, tunnels, railways and other traffic, residential or industrial facilities. They provide excellent protection against mechanical and other harmful environmental influences
and are suitable for a wide range of cables, such as:
• telephone cables
• cables for television cable network
• optical cables
• cables for high and low voltage power supply
• cables for road, railway and other traffic signaling
The PE double-layer corrugated pipe is composed of two layers, the outer ribbed and the inner smooth surface.
The nominal pipe diameter (DN) is the outside diameter (OD) of the pipe.
Pipes with diameters from DN40 to DN200 mm are produced according to SRPS EN 61386-24 and SRPS EN 13476-3 standards, in coils
of 25m, 50m and rods of 6m. The color of the pipe can be yellow or red depending on the purpose.
They are connected with a connector and a rubber band.