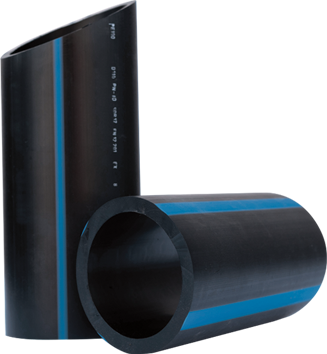 The material is absolutely non-toxic



The material is absolutely non-toxic
Polyethylene water pipes are used in constructing water systems and transporting water under pressure. HDPE water pipes are high-quality pipes made of the highest quality polyethylene PE-80, PE-100 and PE100-RC. The complete programme of HDPE water pipes is produced according to SRPS EN 12201-1 and SRPS EN 12201-2 standards. The pipes are completely physiologically and toxicologically safe for use in water supply.
Advantages of gas pipes made of PE-80, PE-100 and PE100-RC materials include:
• The material is absolutely non-toxic and
  completely inert in contact with water
• Zero effect on the smell and taste of water
• No scale is formed and, accordingly,
  no reduction in flow during
  long-term use
• The pipes are resistant to UV rays and to
  temperatures of -30° C to +60°C
• High resistance to abrasion
• Very low pressure losses because the
  coefficient of friction is 10x lower than that of steel pipes
• They are easy to continue
• They are easy to transport and handle
Additional advantages of pipes made of PE100-RC material are:
• Resistance to load points
• Resistance to rapid crack propagation
• Highest product reliability
• Compatibility with classic PE pipes

Polyethylene pipes are intended for public, private and industrial water supply, for the construction of underground and above-ground pipelines. For public water supply, pipes are defined by projects that have water management approval, while for private and industrial water supply
there are no restrictions regarding water management approval
for the use of a certain pressure that is provided by the project.
The pipes are single-layer with a homogeneously structured wall, smooth inner and outer surfaces.
The pipe colour is black with blue longitudinal co-extruded lines.
The nominal diameter of the pipe (DN) is the outer diameter of the pipe (OD) in dimensions from
20mm to 630mm for the pressures provided by the standard SRPS EN 12201-1 and SRPS EN 12201-2.