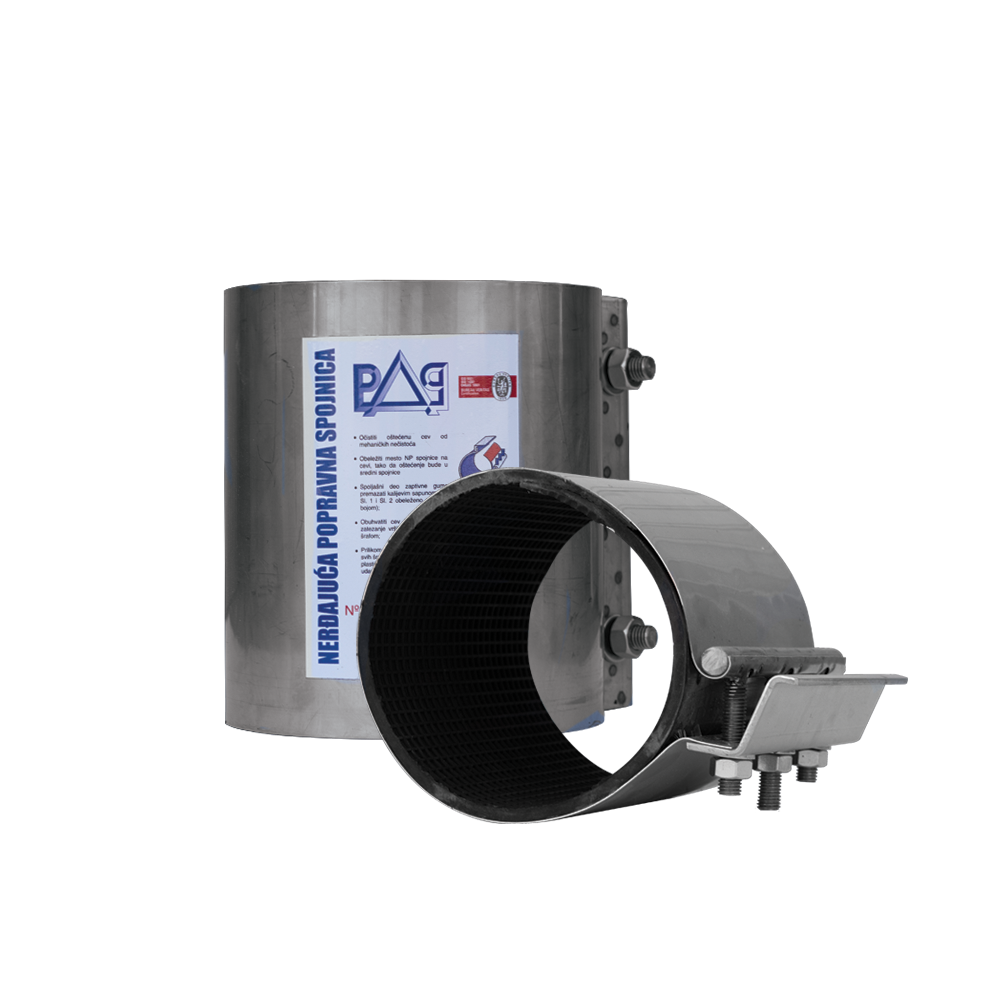 High resistance to
external pressure

Excellent mechanical
properties

Resistant to corrosion and
chemical influences

High resistance to
external pressure

Excellent mechanical
properties

Resistant to corrosion and
chemical influences
Stainless steel corrective joints
Stainless steel corrective joints (NP joints) are intended for the elimination of faults on the pipeline in case of damage, pipe rupture and leakage, for non-aggressive liquids, as well as for connecting pipes without an integrated muff.
They are easy to install, which minimizes repair costs and time.
They withstand pressure up to 40 bar, are resistant to mechanical impacts,
corrosion and chemical influences.
Repairing pipeline defects by containing the damage to the pipe, the NP coupling seals the damaged area, permanently stops the leak and allows for uninterrupted water flow.
Stainless repair joints (NP joints) are made of stainless steel (sheets, screws, nuts, washers)
in quality 4580 and rubber linings in EPDM quality (rubber for the food industry). They consist of:
• Rubber coating that fits on the pipe (strong and elastic enough to fit well and sealingly on the surface of the pipe),
• Metal armor (tightens the rubber coating to the pipe),
• Nuts and evenly attract the end of the armor with other screws). 
• Clamping systems (consists of a group of screws with a specially shaped head to lie in the profile at the end of the armor, prevent openings when tightening
The quality of the material is defined by
SRPS EN 10088 (1-3) standard, and testing is performed according to the SRPS EN 12266 standard.
We produce two types of NP couplings depending on the type and outer diameter of the pipe:
• for DN 20 to DN 63 (Nl to N4) – one-piece L=lOOmm
• for DN 50 to DN 180 (Ml to M16) – one-piece L=200mm
• for DN 200 to DN 500 (Ll to L 18) – two-piece L=300mm