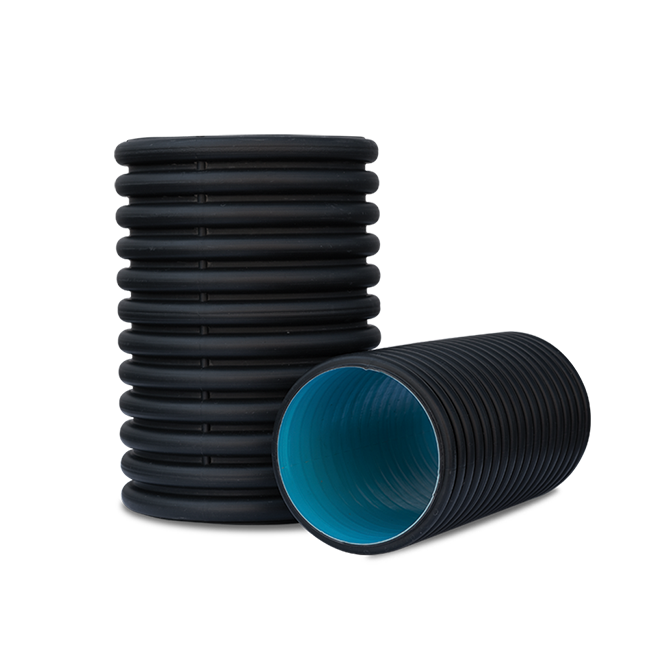 Excellent mechanical
properties

Excellent hydraulic
properties


Excellent mechanical
properties

Excellent hydraulic
properties
PP/HDPE corrugated sewage pipes
Double-layer corrugated pipes are intended for underground drainage and sewerage without pressure. They are produced by the extrusion process of the highest quality polypropylene (PP) or polyethylene (HDPE). Pipes are produced and marked according to the SRPS EN 13476-3 standard. PP/HDPE double-layer corrugated pipe is produced in different peripheral strengths in accordance with the SRPS EN ISO 9969 standard.
PP corrugated pipes are an excellent choice, which confirms the advantages that we can single out:
• Durability
• Simple and safe handling and installation
• Excellent hydraulic properties
• Excellent mechanical properties
• High temperature stability
• High resistance to abrasion
• Low weight of the pipe (enables economical,
  simple and safe handling and installation)
• Complete drainage system
  (all elements of the system are made of the same material)
• Flexibility in processing and joining
  (all classic methods of joining and processing are used)
• Low costs of the entire system
• Flexibility of the pipe system (stable against deformation due to   
  high traffic loads even with a low overlay, can withstand large  
  deformations without damage to the structure,
  tolerates settlement countries)
Areas in which they can be applied are fecal and storm sewerage, drainage of roads and land, special solutions for industry and construction of drainage systems.
The PP/HDPE double-layer corrugated pipe is composed of two layers, more precisely, of two connected around the entire circumference of the pipe.
The outer wall of the tube is ribbed and black in colour. The size and spacing of the ribs depends on the diameter of the pipe and
the degree of stiffness, and the inside of the rib is hollow. The inner tube is smooth and green/blue in colour.
The nominal pipe diameter (DN) is the inside diameter (ID) of the pipe. Pipes with a diameter of DN200 to
DN1000 are produced in straight rods of 6m, and the connection is made via an integrated coupling and rubber band.