Stainless steel fixing fittings (NP fittings) are used for fixing flaws in a pipeline, in the event of a damaged or broken pipe, leakage of non-aggressive liquids, as well as for joining pipe without an integrated collar.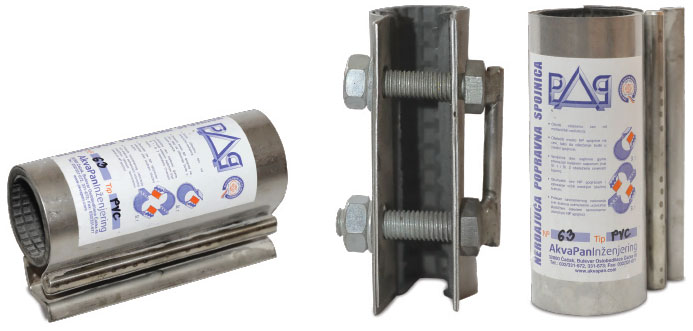 The NP fitting encircles and clamps the damaged section of the pipe, sealing it and permanently stopping the leakage, i.e. enabling free flow of the water inside the pipe. NP fittings are easily installed, minimising the costs and time for repair. Capable of sustaining a pressure of up to 40 bar, NP fittings are resistant to mechanical impact, corrosion and chemical impact as well.
NP fittings are made from stainless steel (tin sheets, bolts, nuts and washers) of C 4580 quality standard, while the rubber pads are made to EPDM 8food industry rubber) standard. The quality of the material is defined by the SRPS EN 10088 (1-3) standard, with testing conducted in accordance with SRPS EN 12266 standard .
The fitting is composed of:
Rubber padding lining the pipe (of sufficient firmness and elasticity to enable tight and comprehensive grasp of the pipe surface),
Metal shield (pressing the rubber pad against the pipe surface),
Clamping system (a set of bolts with specially shaped head to fit into the profile at the end of the shield, preventing the opening of the bracket at tightening and securing an even pull of the bracket).
There are two types of NP joints, depending on the type and outer diameter of the pipe:
For DN 20 – DN 63 (N1 – N4) – one-part L=100mm,
For DN 50 – DN 180 (M1 – M16) – one-part L=200mm,
For DN 200 – DN 500 ( L1 – L 18) – two-part L=300mm.
Placing an NP fitting:
Clean the pipe removing any mechanical impurities, then mark the place where the NP fitting will be placed, so that the damaged part lies in the mid-section of the fitting. Apply potassium soap of the outer part of the sealing rubber, then place the NP fitting around the pipe. Proceed with even tightening of all the bolts, to close the NP fitting. While tightening, apply moderate strokes with a plastic mallet over the surface of the NP fitting.