Pipes for domestic sewage systems are made of unplasticised polyvinyl-chloride (PVC-U) with the addition of stabilisers and additives, intended for disposal of all types of waste water in residential and industrial buildings, as well as for disposal of rainfall inside and outside buildings. PVC-U quality is set in accordance with the DIN 19531 standard.
Pipes and the connecting elements made of PVC-U are resistant to corrosion and aggressive chemical impact of acids, alkalis, sulphates, alcohols, salt compounds and many other types of chemicals. They provide good electrical insulation and can be permanently applied within the temperature range of between 0ºC and + 60 ºC.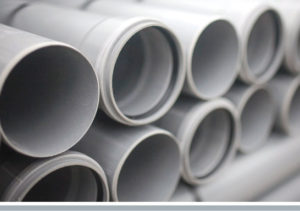 The pipes have a service life of over 50 years. The pipes are not suitable for disposal of waste waters with a high content of petrol, acetone and benzene (organic solvents). The connections are made using a socket fitting and a rubber ring, securing full tightness of joints.
Ideal for pipelines installed underground or on the ground surface, laid on free flat surfaces, for the disposal of waste water and rainfall. They are also utilised for industrial purposes, for the disposal of industrial waste waters that have no negative impact on PVC; equally suitable for free (gravitational) flow systems, as well as for low-pressure systems. Pipes for household sewage systems are produced with the socket fitting (collar). The useful length of the pipe with the socket fitting is its length without the length of the collar depth.
PVC KK pipes are light-grey in colour (RAL 7011) and bear the following markings:
Code of standard: DIN 19531
Outer diameter,
Type of material,
Manufacturer's sign and year of production.
The outer diameter of the pipes ranges between DN 50 and DN 160 mm, and they are supplied in lengths of between 250 mm and 5000 mm. Owing to integrated collars, installation of pipes and connecting elements of a household sewage system is very simple and quick.