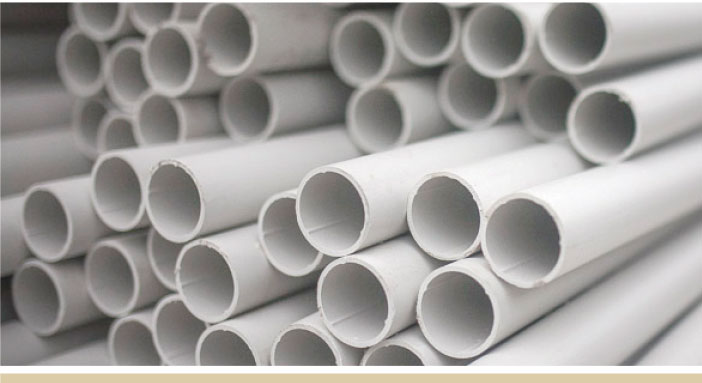 PVC pipes for greenhouses are made to 40mm diameter, and are supplied in lengths of 8m, in white colour. The pipes are primarily intended for plastic tunnel structure, but can also be used for other purposes (as long-lasting supports for creeping plants). Owing to the light weight, they are easily transported and installed. PVC pipes for greenhouses are resistant to rain and cold weather, as well as to sunshine and UV radiation.
AkvaPan Inženjering d.o.o. provides its customers with all the necessary components for mounting a tunnel structure: PVC pipes, metal fittings and PE posts.
Instructions for mounting a greenhouse – plastic tunnel
Mounting without posts
Measure the area to determine the places for the structure, and then stick the end of the 8m pipe (1) into the ground (20 cm in depth). The lateral pipes are connected using the connecting pipe (2) and metal fittings. Each third pipe is reinforced with a wooden post. After setting up the structure, it is covered with 8m wide plastic foil. The remaining 20 cm wide strip of loose plastic foil on both edges is covered with earth, for additional reinforcement.
Mounting with posts
A post (3) is nailed into the ground (app. 40 cm – 50 cm in depth) and the pipe (1) is placed by inserting the end of the post into it, all the way to the limiter. Proceed with mounting in the same way as without the posts. This method allows a more efficient utilisation of the width of the tunnel, since the vertical position of the posts makes it possible to use the edges of the tunnel for planting. In addition to this, wooden posts are not required. The front and the back of the tunnel are also closed with plastic foil.